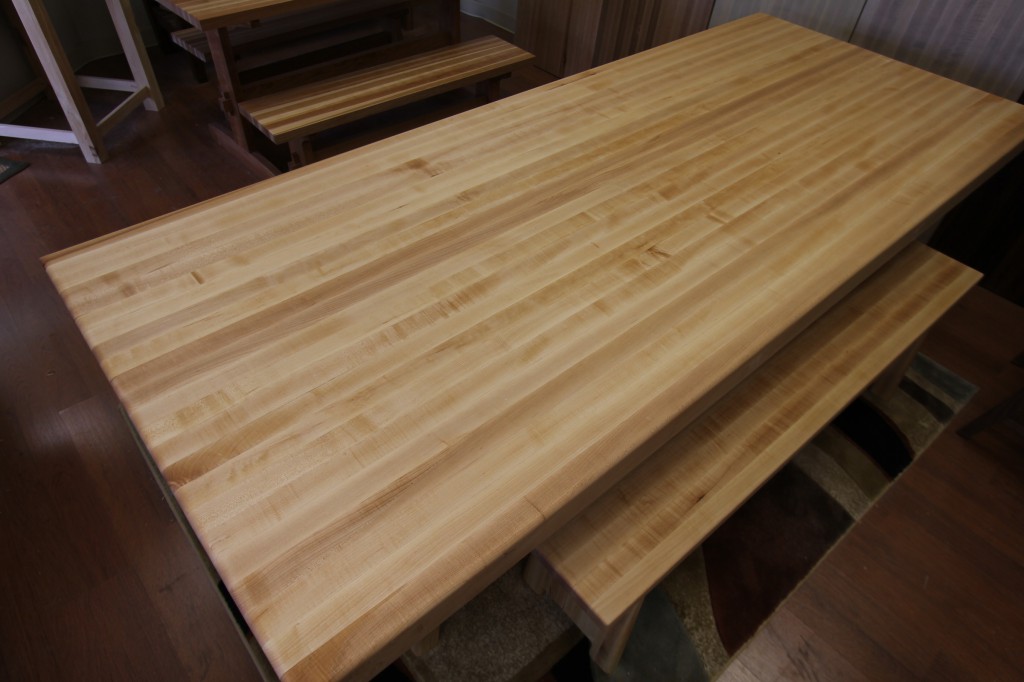 If you're looking for a beautifully handcrafted hardwood table for your dining room or kitchen space, McClure's stunning dining, trestle, and pub tables can be custom made to best fit your space.
Between McClure's alluring Nottingham Dining Set, contemporary Oxford Dining Tables, beautiful handcrafted maple, cherry, and walnut trestle tables, and chic pub table sets, the company's custom-made, handcrafted dining tables make for a beautiful and functional centerpiece for a kitchen or dining room.
Every dining, trestle, and pub table from McClure is defined by the intricate craftsmanship that goes into the construction of the legs and tops. Each table McClure creates is a uniquely made, one-of-a-kind piece of furniture that will add natural beauty to any dining experience.
Each top for every dining or trestle table is made from premium-quality FAS grade wood that is hand-selected by McClure's expert craftsmen for color consistency and quality. Assembled with edge grain continuous rail construction, the tops are then hand-sanded to ensure a smooth, consistent texture throughout.
Upon finishing construction, each and every table is then coated with either a lacquer or McClure's Clear Organic Seal finish to create a smooth, food-safe, durable surface. With McClure's Organic Color Seal, both the dining, trestle, and pub tables can be custom finished to the color options of your choice.
Trestle Tables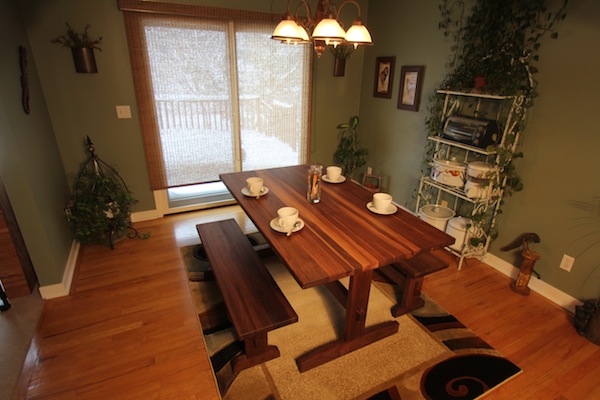 For a casual dining setting, McClure's trestle tables make for the perfect centerpiece. Each table is made with full-length continuous rails of locally sourced hardwoods, giving each table a beautiful uniform color and appearance. With a natural organic seal finish coating the table set, McClure's trestle tables are also incredibly durable and 100% food-safe.
The bases of McClure's trestle tables and add-on benches are carefully crafted by hand using mortise and tenon joints. While McClure's standard models are made with premium-quality walnut, Michigan cherry, or Michigan hard maple, the trestle tables can be made with McClure's standard wood species or specialty woods upon request.
Dining Sets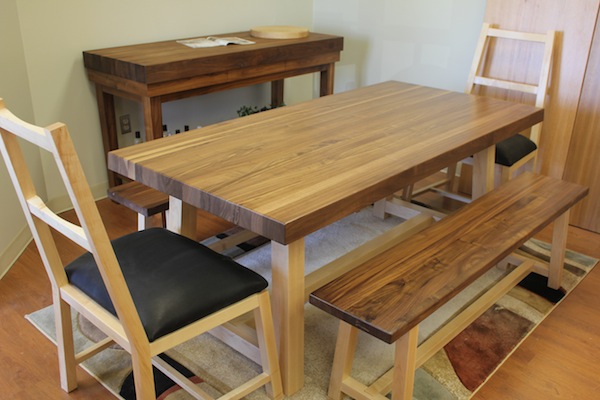 When it comes to dining tables, McClure's Nottingham Dining Sets and Oxford tables make for beautiful handcrafted centerpieces for kitchens or dining rooms. Each Nottingham Dining Set is made from hand-selected rails of beautiful walnut, while every base is painstakingly made using mortise and tenon joints.
For a more contemporary table, McClure's Oxford Dining Sets make for a great option. The table and bench tops are made with hand-selected planks of premium, locally-sourced walnut, giving off a rich, dark appearance. These modern, fashionable handcrafted dining tables make for the ultimate kitchen or dining room focal point.
Pub Tables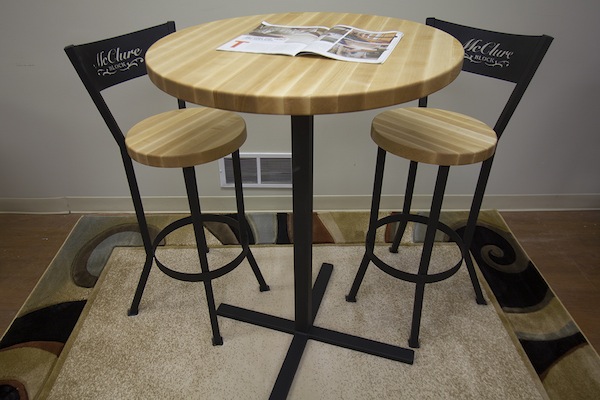 McClure's pub tables and chairs make for a beautiful addition to your game room or entertainment area. The table and chairs feature handcrafted, powder-coated metal bases with a 1.5" thick hard maple top. The table and chair tops are made with continuous rail edge grain construction using premium hand-selected planks of wood to create a table that is as durable as it is beautiful.
Custom-Made Handcrafted Dining Tables
Despite the setting, McClure's handcrafted dining tables are fully customizable and can be made to best fit your space and décor. If you're looking for a handcrafted piece of furniture that's both beautiful and durable enough to stand up to decades of use, go with McClure for hardwood tables you can trust.