To meet the growing demand for our butcher block products while still offering the smooth, soft finishes and quality we've become renowned for, McClure Tables and Block invested in new gluing and sanding machinery for our woodworking shop.
With recent major machinery additions to McClure's Grand Rapids workshop, we're taking a look inside the facility to see the new equipment and the extensive gluing and sanding processes that go into our smooth, seamless butcher block and continuous rail products. Using the new glue rack, stroke sander, and rotary sander, McClure's expert woodworkers are able to quickly and efficiently create the beautiful, glossy surfaces that help set us apart from competing butcher block brands.
To maintain the quality McClure's products have become renowned for, each individual product is inspected and finely sanded by our team of expert woodworkers to ensure each product meets McClure's pristine standards.
Glue Rack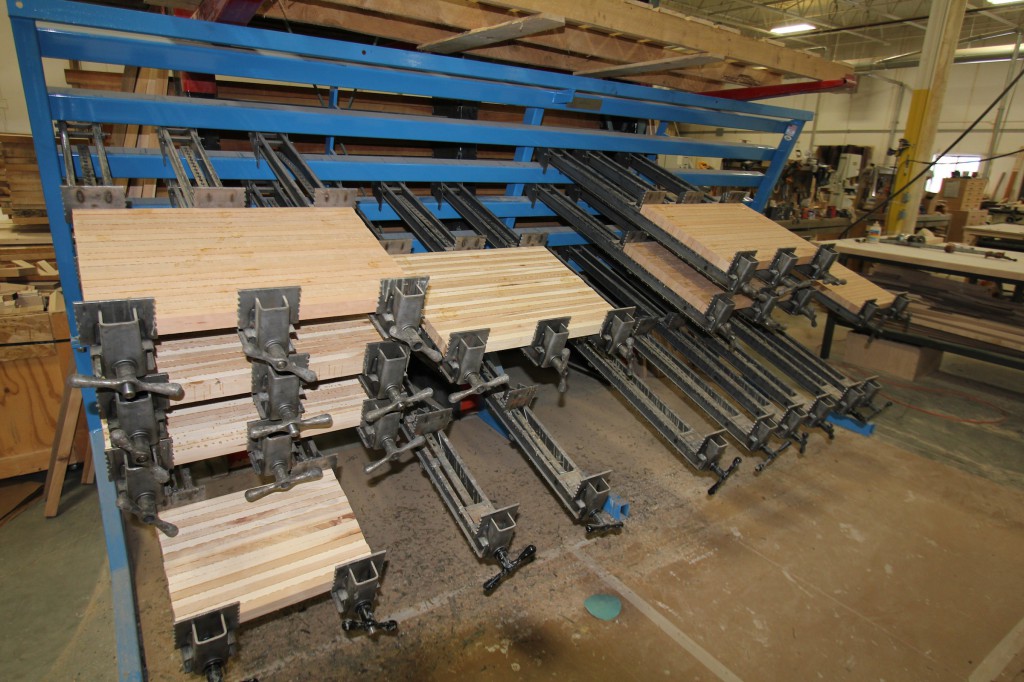 After hand-selecting each individual plank for quality and color consistency, all of our premium continuous rail and butcher block products are glued up in our new glue rack. Capable of gluing roughly a dozen of our products at the same time, the glue rack provides the sturdy and resilient quality our custom-made products are known for. After our products are sufficiently glued, they are then processed through our new sanding equipment.
Stroke Sander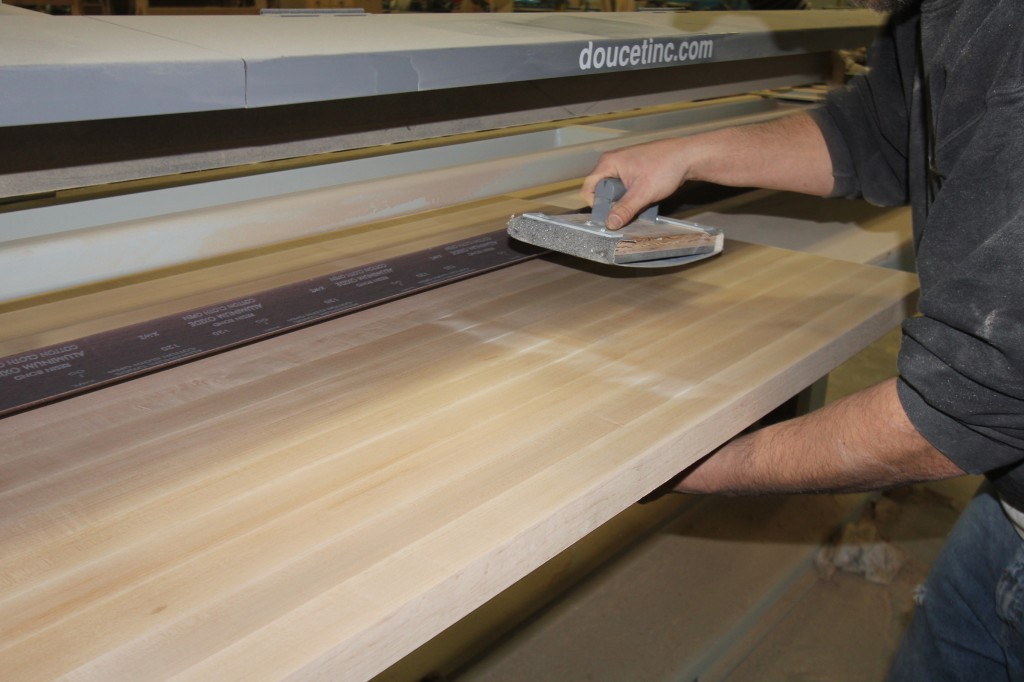 Rather than using a hand-belt sander, McClure's new Stroke Sander can quickly handle intense sanding jobs on any type of wood used for our products. For increased control while sanding, the stroke sander allows our team to apply the perfect amount of pressure during the sanding stages. Capable of working with surfaces up to 12 feet long 51 inches wide, the stroke sander applies an even surface on all of our butcher block products and continuous rail countertops before they are finely sanded for a soft and smooth finish.
Rotary Sander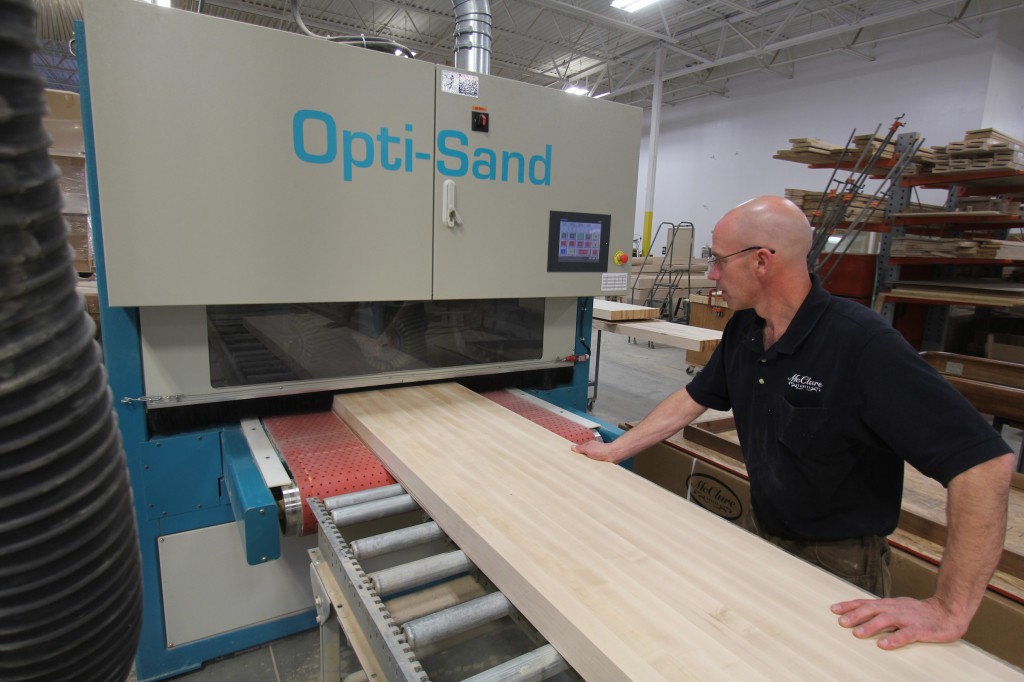 To remove any sanding or finish imperfections from our premium continuous rail and butcher block products, McClure invested in a rotary sander. Removing any line chatter or blemishes caused by our wide belt sander, all of our products are run through our rotary sander as a final preparation before the finish is applied. The rotary sander is also used as a sealing sander between finish coats to ensure that all of our product finishes are level and flawless.
McClure's Hand-Crafted Mentality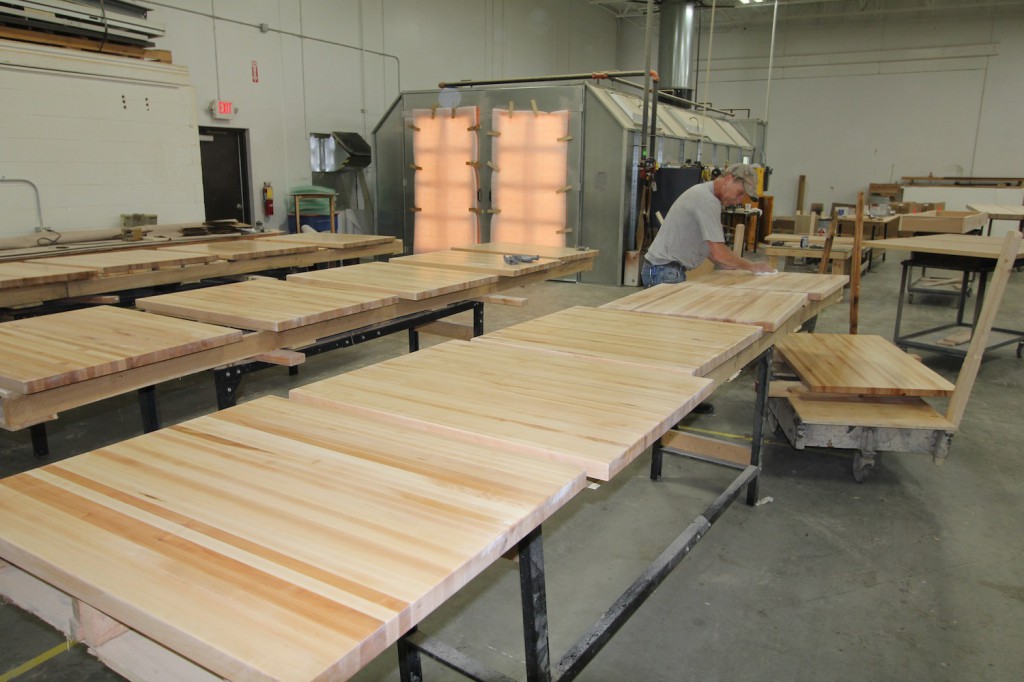 The new factory equipment can handle larger surfaces and has greatly sped up our sanding process, allowing us to quickly and efficiently finish products that are thicker, longer, and wider than ever before. However, while the sanders help us to speed up our manufacturing process to meet customer demand, each of our products are finely sanded, thoroughly inspected, and finished by McClure's team of expert woodworkers to create a soft and seamless look and feel for every wood surface we create. This handcrafted mentality and thorough attention to detail ensures that every product meets the McClure standard.
Looking to see our finished products? Head over to the McClure online store to see all of our beautifully sanded butcher block products and premium shuffleboard tables.