As you are likely well aware, April 15 is the deadline set by the federal government to complete your taxes from last year before having to potentially pay a penalty cost. If you haven't already, the clock is ticking before you miss out on the opportunity to reap a hefty refund from Uncle Sam, and thanks to many recent credits enacted by the government, the chances of getting money back are better than ever.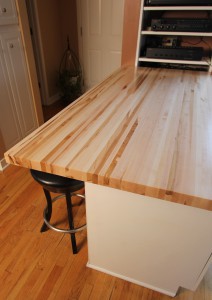 According to recent figures from the IRS, more citizens than ever are expecting to receive cash back on their tax refund this year, and with that extra money, a lot of individuals are looking into renovating their homes.
One of the best locations in the home to seek a renovation is the kitchen, as this is one of the most highly trafficked area of the house and therefore the space that arguably gets the most abuse.
As well, there is no better time to take advantage of fashionable and durable, kitchen upgrades that not only make it a more user-friendly space for you today, but may also make the home more valuable in the long run.
The first place you should look to upgrading your kitchen is the countertop, as this area functions as the space's main work station as well as the location where you keep many of your tools and food items. A butcher block countertop like the kind created in McClure Tables' Michigan workshop is perfect because they are not only aesthetically pleasing, but thanks to the variety of woods available to consumers, they are all durable in the long run.
If you consider spending your tax return on one of these top-of-the-line countertops, you'll be making an investment into your home that will make living more easy in the short term and pay off big time down the line.