A premium butcher block kitchen island or gathering table is a great addition to any home. Our team of master craftsmen use only the finest Michigan hard maple, walnut, cherry, or oak when constructing our butcher block kitchen islands and gathering blocks. Handcrafted in our Grand Rapids workshop, every kitchen island we create is not only practical, but beautiful as well. Their simple yet elegant design fits in any home, and the eye-catching patterns will make your new kitchen island stand out. Whether you're looking to spruce up your kitchen or add some flair to your game room, our superior butcher block kitchen islands and gathering blocks make a fine addition to your home.
We've seen our customers use our handmade butcher block gathering block tables for all different purposes. Its economical size allows it to fit in a ton of different spaces while being sturdy enough to handle the rigors of preparing meals day-in and day-out. Below, we've listed some of the most practical uses for our gathering blocks.
A SUPERIOR PREP STATION:
A butcher block gathering table is both elegant and functional and serves as an amazing centerpiece for your kitchen. It takes up empty space while serving a purpose and acts as an amazing alternate for a full-blown butcher block kitchen island, which is generally reserved for larger spaces. These gathering tables are beautiful but rugged in their own right. Chop anything from produce to meats on the surface without tarnishing the overall aesthetic and easily clean your table with household cleaning products. Our butcher block gathering tables are a perfect showpiece for any kitchen and can serve as "the heart" of the room.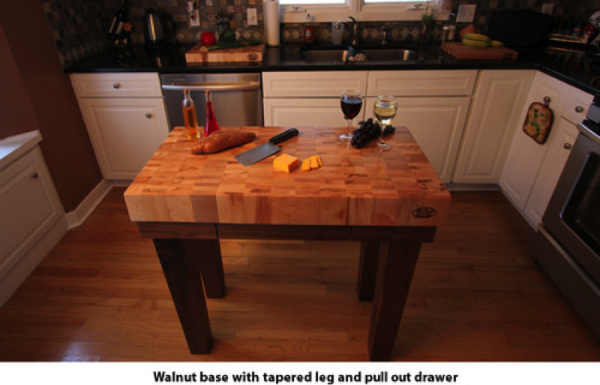 STORAGE:
As stated above, the elegance our gathering blocks bring to a room is unparalleled. An understated and often under utilized approach to our gathering tables is simply using it as a beautiful storage unit. These tables can be customized to feature pull out drawers and bottom shelves, which can hold anything from appliances to cutlery and assorted kitchenware.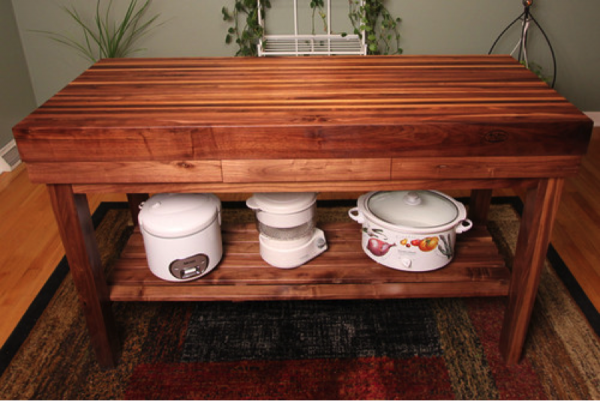 DECORATION:
Out customers have used our handmade gathering blocks for all kinds of things ranging from nightstands to pieces that round out their full bar set up. There is no limit to what you can use our gathering blocks for as their durability matches their beauty which makes the possibilities nearly limitless. Some extra creative uses for our gathering blocks include:
–       Nightstands
–       Cocktail station complete with decanter set
–       Luxury entertainment center
–       Large coffee table for a cabin themed home
–       Luxury bathroom cart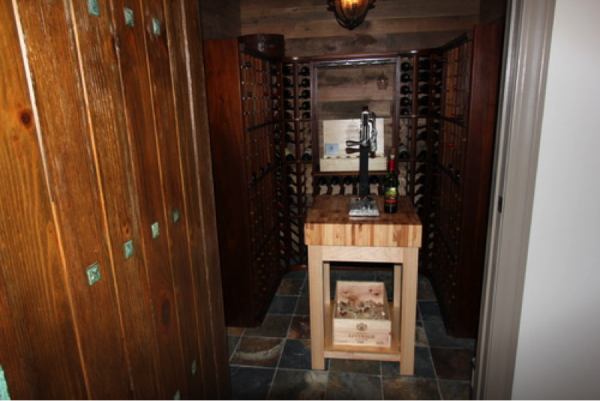 Multi-faceted and perfect for any room, our renowned butcher block kitchen islands and gathering tables complete any home and add an air of elegance and rustic design. Questions? Call Todd McClure at 800-565-0977