If you're looking for particular edge design for your butcher block countertops, McClure Tables can custom-make any countertop edge profile to your request.
While McClure Tables offers a choice of wood species, end or edge grain construction, and thickness options for your counter space, a countertop's edge profile can also range from elegant to contemporary to practical. Whether you're looking for a standard square edge, a rounded edge, an ogee edge, or other designs, McClure's expert woodworkers can build a countertop edge profile that best suits your kitchen setting.
McClure offers six standard edge profile options, though our expert woodworkers can build custom edge profiles upon request. With handcrafted construction going into each and every one of McClure's counter tops, edge profiles are just another custom feature available through McClure Tables.
Depending on the layout of your kitchen counter-tops, specific sides can be given custom edge profiles upon request to best work for your kitchen. To give you an idea of edge options, designs for McClure's six standard edge profiles are listed below.




For a standard, practical look for your kitchen counter-tops, McClure's standard edge, radius edge, and bull-nose edge profiles make for a great option.


If you're looking for countertops that are a little more sleek and contemporary, McClure's chamfer and beveled edges are a great choice. Angles of these edges can be custom built to your request.

For a countertop edge profile that is a little more elegant and refined, McClure's ogee edge gives off a higher end appearance. McClure's craftsmen can also custom build a bull nose ogee edge, which is similar, but with a rounded finish below the ogee curve.
Whatever your countertop edge profile preference might be, McClure's craftsmen always handcraft each of our premium butcher block countertop surfaces. If you're looking for a countertop that truly matches your kitchen space down to the minor details, you won't find a better option than McClure's custom countertops.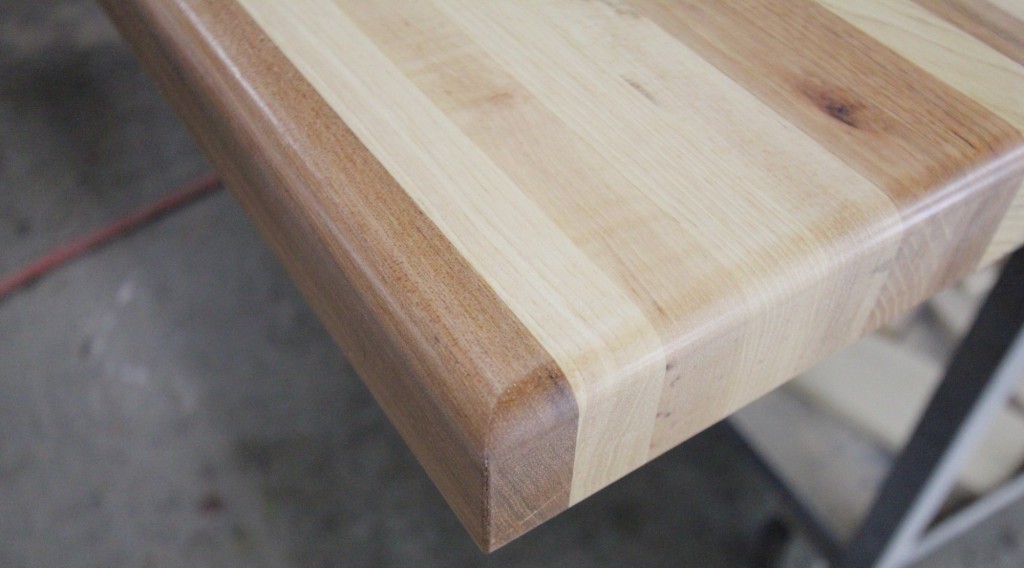 Between your choice of wood, construction, edge profile, thickness, and finish, McClure's butcher block countertops come with complete customization. If you're looking for the perfect kitchen countertop, contact McClure today on our website or via phone at (800) 565-0977.