McClure Tables butcher block products are known for their uncanny combination of craftsmanship, durability and beauty. After undergoing an extensive creation process, each butcher block product has one of our three custom finishing seals applied in order to complete the job. Each finish is unique and should be used depending on what the desired aesthetic is as well as the intended use. Below, we break down each finish and what it's meant for: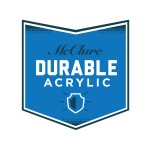 The McClure Durable Acrylic is the finish is a commercial restaurant industrial finish, which is known for it's durability and functionality. As tough as it is beautiful, this finish is also extremely low maintenance. If you're looking for a surface that doesn't quit and can withstand all the rigors of everyday life, this is the finish for you.
Uses: Dining tables, pub tables, countertops, pub tables, islands and serving tables that will not be used to chop on.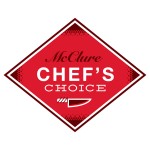 The McClure Chef's Choice is created from 100% food grade mineral oil and is the only 100% food safe finish we offer. If you are chopping and cutting a lot, this surface offers the durability and safety you need in a butcher block with an air of elegance to match. This oil will need to be applied to your butcher block two to three times a year in order to keep the surface pristine and ensure it lasts for years to come.
Uses: Countertops, islands, chopping blocks and cutting boards.
The McClure Organic Color Seal provides beauty and aesthetic flexibility while delivering sturdiness similar to the McClure Durable Acrylic. McClure Tables offers this finish in a wide variety of colors. It is also both completely organic and waterproof, resulting in a product that can be used in the kitchen or for more industrial purposes. Easy to repair, this finish can be salvaged on location if you happen to cut or damage it.
Uses: Desks, pub tables, bar tops, dining tables, kitchen countertops.
From sturdiness to food safety, McClure Tables offers butcher block finishes to satisfy a variety of needs. Whichever need is yours, McClure Tables butcher blocks ensure quality, dependability, and the feeling of family for years to come. Browse our full line of butcher block products here, and find the right finish for you with our definitive guide.