Our handcrafted butcher block countertops are built from the best quality Michigan hard maple, walnut, cherry, or oak and assembled by our team of master craftsmen who have over 30 years experience creating premium surfaces that are both highly functional and boldly beautiful. Each kitchen island and countertop is created and inspected in our Grand Rapids workshop where we constantly strive for perfection when creating our famous shuffleboard gaming tables and butcher block premium products.
Take a behind-the-scenes look at how we create a butcher block countertop from scratch and get inside the mind of master craftsman, Todd McClure.
THE SOURCE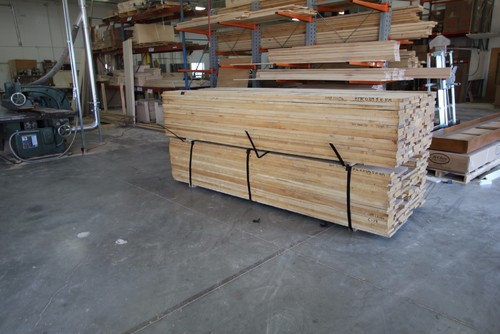 We do not purchase wood straight from the sawmills. Our wood comes from suppliers who are masters at removing the moisture from the wood via a precise kiln and steaming process. It's integral to our craftsmanship process that the wood we begin with is devoid of moisture and meets The McClure Standard.
THE BUILDING BLOCKS: LOCALLY HARVESTED WOOD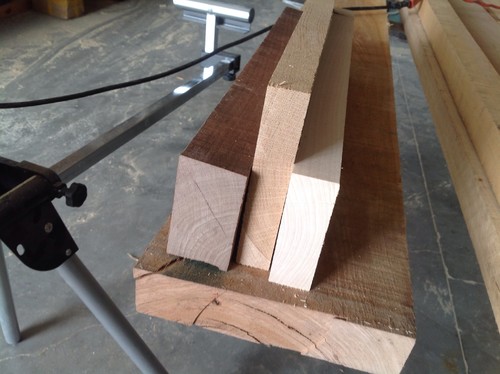 When creating a hand crafted butcher block countertop, the end product is only as good as the wood you use. We source only the finest locally harvested hard woods like hard maple, cherry, red oak, white oak, and American black walnut to serve as the foundation for our premium butcher block products. We prefer to use continuous rail lengths that have minimal knots and defect in color. We do use blended rail when tasked with creating a countertop over twelve feet long, as sourcing wood that long without knots or defects would be extremely difficult.
Continuous vs. Blended Rail: Continuous rail wood is head and shoulders above blended rail wood, which is essentially the left over scraps from previous premium butcher block jobs. Our competitors widely use blended rail to increase yield and decrease raw material pricing. At McClure we never sacrifice quality and appearance to decrease our production costs.
McClure Raw Materials: Hickory on bottom, Walnut on left, Hard Maple on right, White Oak on Top.
THE BEGINNING: RIPPING WOOD TO WIDTH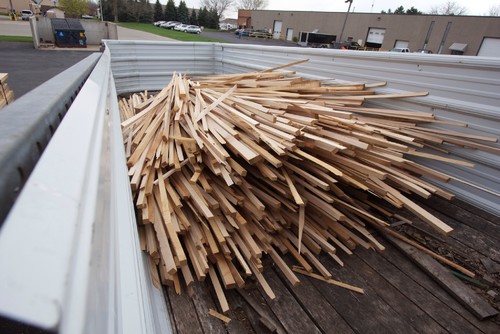 After selecting the wood we will use for the countertop, the next step of the process is ripping each board to a uniform width (depending on the size of the countertop) before beginning surfacing. The thickness of the raw material will determine the rail width and can range anywhere from 3/4″ to 2" inches depending on the project. We recycle all the leftover scraps from the ripping process and donate them to the local community where it is used to fuel wood burners.
SURFACING FOR GLUE UP PROCESS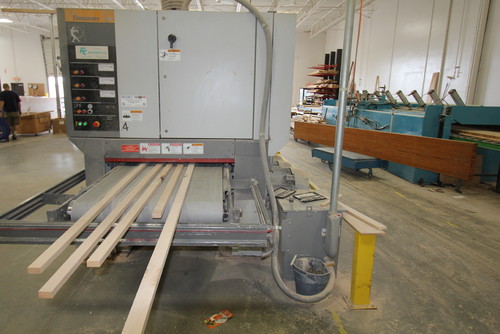 After the boards have been ripped to size, it's time to begin surfacing to prepare the wood for the glue up stage. We surface both the top and the bottom, which eliminates about 25% of the total thickness from the starting boards. At this time, we also do a thorough inspection and cut out any defects or knots that are present to ensure that the countertop we're producing is nothing short of premium.
OUR PHILOSOPHY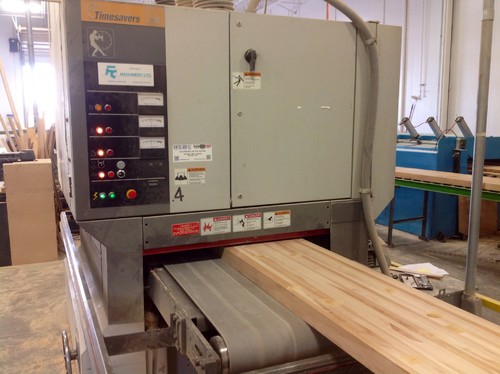 If we start processing wood on Monday, we won't begin surfacing unless we can ensure the glue up process can be completed by Thursday. Letting the wood sit out over the weekend compromises the integrity of the materials and results in a less than stellar end product. We're known for our commitment to quality and this is just one step on the path towards achieving that.
No Material Wasted: After surfacing all the boards for each countertop, we donate the sawdust to local farmers who use it as bedding for their livestock.
GLUE UP
At this point, we've taken the time and put in the effort to ensure that the boards we will be using to create the countertop are flawless and consistent. The next and most important part of the entire process is the glue up phase, which results in all of the boards unifying to become one smooth surface. The majority of our glue up jobs can be processed through our radio frequency (RF) press that is similar to a large microwave oven.
NO JOB TOO BIG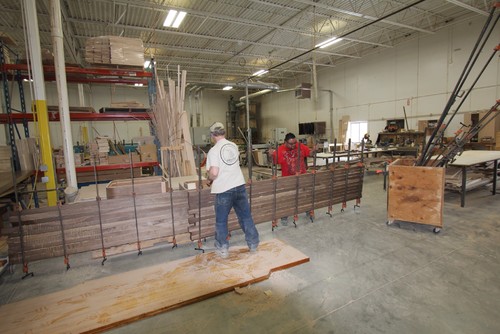 Some countertops are so large that they will not fit in the RF press, since it only glues up to 42" wide blocks. For anything larger, we may have to use metal clamps to glue the boards the old-fashioned way. Our experience and steady hands are truly on display now as you will find it very difficult to tell the difference between a hand-glued piece versus one that was run through the RF press.
EDGING AND CUSTOM CUT OUTS

After the edge grain butcher block is cut to size and planned to thickness, we can then put the final touches on each surface before the finishing process. At this point it's time to give the butcher block custom edging and implement custom sink cut outs to complete the final structure.
A CRAFTSMEN'S MARK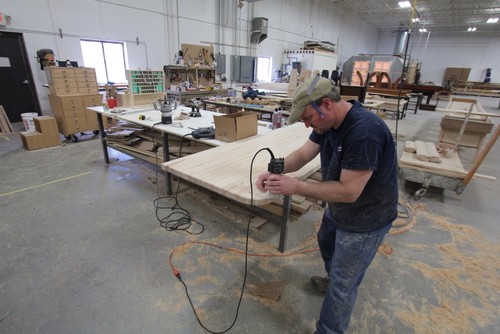 These custom edging and cut out jobs are always done by hand with a router and custom fixtures; as such, an extraordinary amount of skill and experience is required to perform them properly.
Any missteps at this juncture would cause us to have to completely start over. It's imperative that we take our time and get this stage right in order to deliver the level of quality butcher-block products we are known for.
McCLURE BUTCHER BLOCK CUTTING BOARDS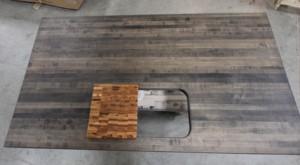 We use the excess wood leftover from the sink cut outs to create beautiful and functional butcher block cutting boards.
Our cutting boards have a simple yet elegant style and the premium craftsmanship ensures they will last for years to come. These are finished with our 100% natural food grade mineral oil.
THE FINISHING TOUCH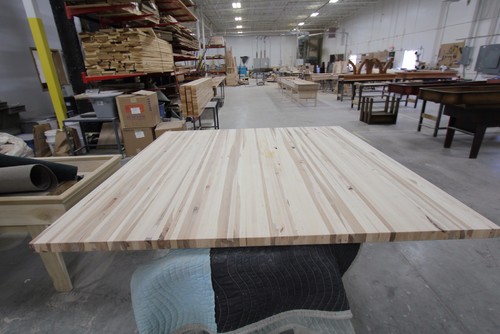 After we surface, glue up and do any custom edging or cut outs, it's time to apply one of our famous McClure finishes.
We offer three main finishing coats for our butcher block products:
LACQUER PERMANENT SEAL COAT: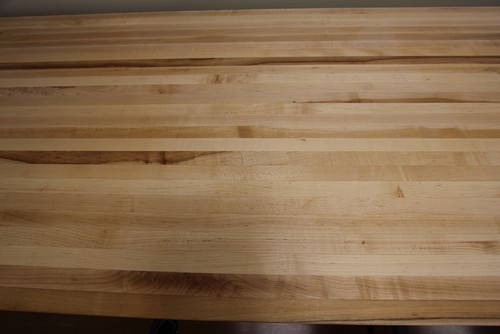 This is the same material we use on our renowned shuffleboard tabletops.
Uses: Dining tables, craft tables, pub tables, counter tops, islands and serving tables that will not be used to chop on.
100% FOOD GRADE MINERAL OIL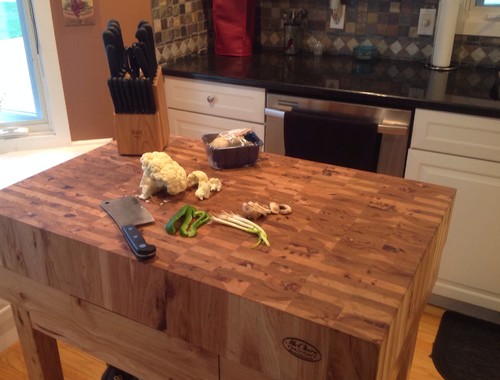 If you will be chopping and cutting a lot, we recommend food grade mineral oil, which is the only 100% food safe finish. Depending on how dry your climate is, this oil will need to be reapplied 2-3 times per year.
Uses: Counter tops, islands, chopping blocks or cutting boards.
ORGANIC MINERAL OIL – CLEAR OR COLORED: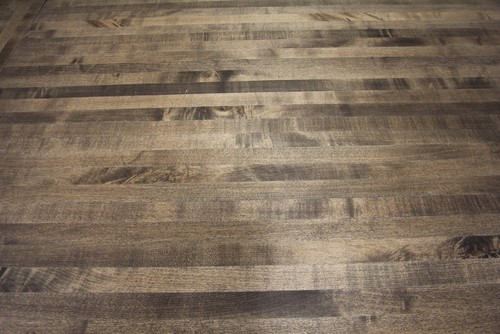 For the best of both worlds, we recommend our permanent oil which is both durable and beautiful. We seal the bottom with a UV seal coat and the top coat (available in both clear and different colors) is water proof and easy to repair on location if you happen to cut or damage it.
Uses: Desks, bar tops, pub tables, dining tables, kitchen counter tops.
A FINISH FOR EVERY SITUATION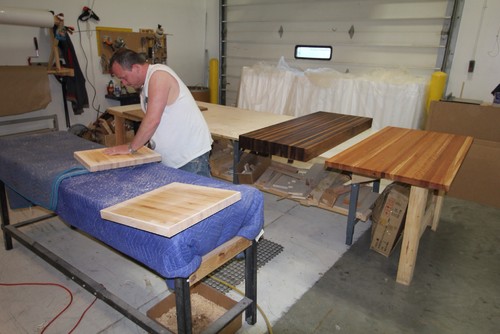 Pick and choose which one works for you based on your cooking needs.
THE FRUITS OF OUR LABOR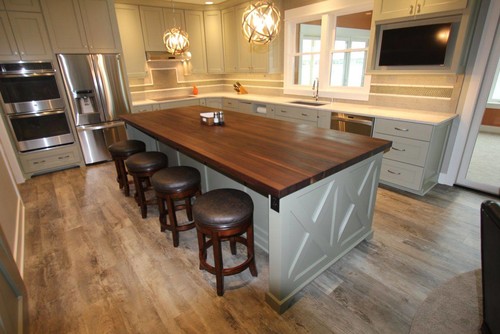 After the ripping, surfacing, glue up, and finishing process has been completed – we are proud to present each customer with a beautiful butcher block countertop.
STYLE MEETS FUNCTION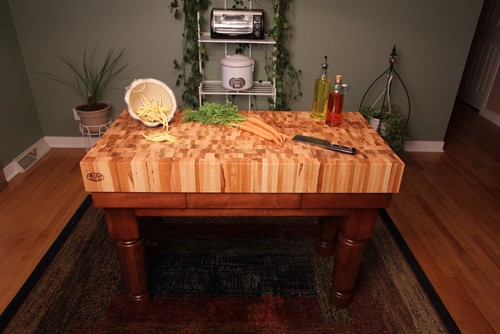 Each beautiful butcher block countertop will not only serve as a durable, integral, and functional part of their kitchen, but will also provide an air of luxury to the room.
DELIVERY SERVICES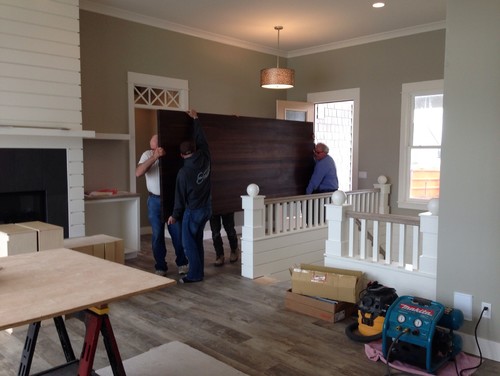 Upon completion, we offer delivery to local customers.
See our wide variety of custom butcher block countertops HERE