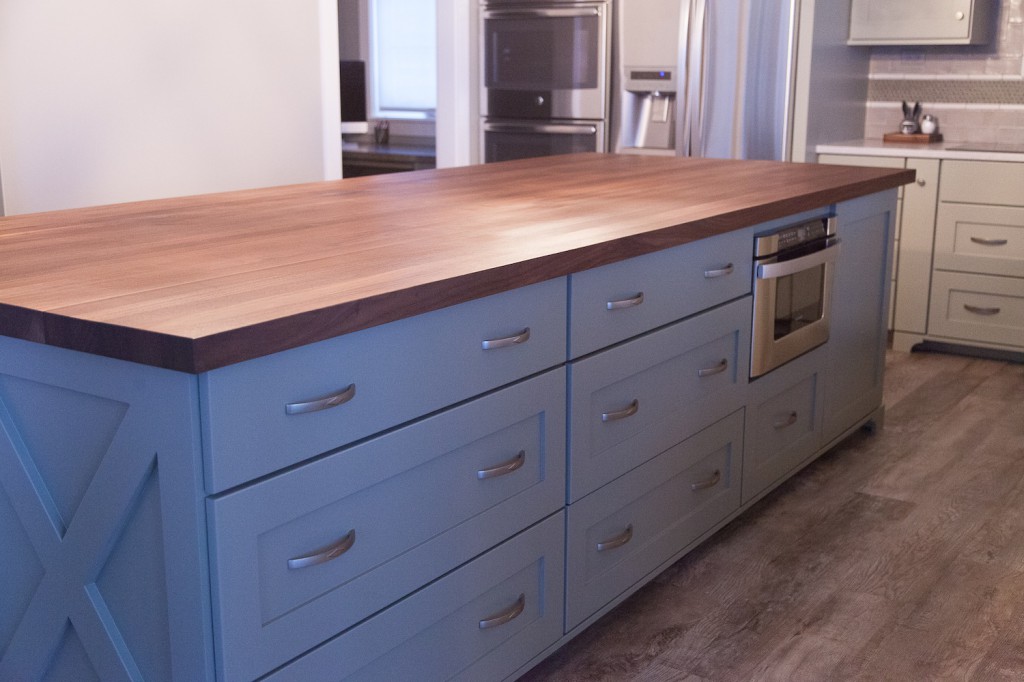 With the recent rise in popularity of bright kitchen cabinets, dark butcher block countertops can make for a great counter choice for a bold, contrasting look.
For a warm, inviting look in the kitchen, dark butcher block countertops give off the perfect vibe, especially when contrasted with brighter elements. Whether you're looking into dark species of woods for your countertops or staining a brighter species of wood with a darker finish, McClure offers a wide range of dark wood species and finish options for our line of custom-made butcher block countertops.
While there are many misconceptions surrounding butcher block countertops, wood, especially darker species, can be very easy to maintain and clean. Add in the warmth and natural beauty of butcher block countertops, and it's easy to see why more and more homeowners are looking at installing hardwood countertops in their homes.
Design Trends
As brighter cabinets have made a comeback over the past few years, dark butcher block countertops are becoming more and more prominent in contrasting designs. To offset the dark countertops, we often see white or off-white shaker-style cabinets or bright maple cabinetry. The light, clean appearance of the cabinetry makes for a great complement to dark butcher block countertops, which typically feature intricate grain patterns that are full of character.
While some designers dedicate a dark wood surface throughout the available countertop space, many of the kitchen designs we see at McClure involve using dark butcher block for only a kitchen island or an isolated portion of the counter space. At McClure, we find that edge grain surfaces work beautifully as a serving area or island, while end grain construction is best for an isolated food preparation area.
Wood Species and Finish Options
When it comes to dark butcher block countertops, one of the most popular wood species is American walnut. Walnut's heartwood ranges in color from a pale brown to a dark chocolate hue, while the sapwood is typically pale yellow, making it ideal for a dark countertop surface with some character.
In addition to walnut, maple is also one of the most popular wood species for countertops. While natural maple is quite bright, maple's sapwood can be stained with a variety of colors, including darker shades as well.
Using McClure's Organic Color Seal, we are able to offer dark maple countertops in shades of both charcoal and cocoa for a bolder look. Because maple is one of the toughest and most shock resistant woods available, staining maple makes for a great choice for a dark butcher block countertop.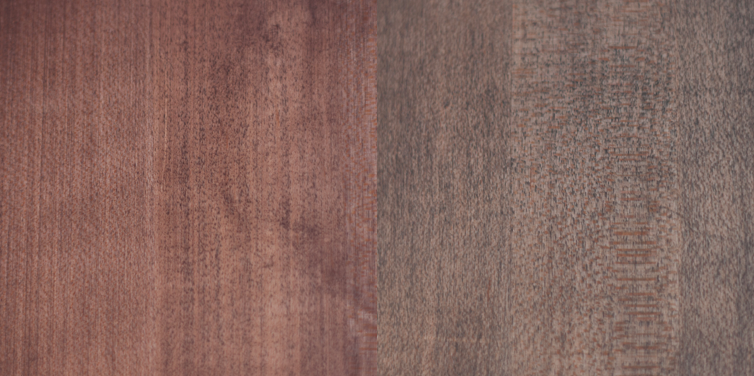 Maple Counters with Cocoa and Charcoal Organic Color Seal Finishes
In addition to the standard wood species offered at McClure, our expert woodworkers are always willing to work with specialty or exotic woods upon request. If you're looking for a more unique wood species with dark coloration, feel free to contact McClure for more information.
If you're looking to add dark butcher block countertops to your kitchen design, McClure can help you find the perfect wood species and finish for your home. We use only the highest quality wood available for our continuous rail, edge grain countertops, making the surfaces as beautiful and durable as can be.
For more information on McClure's butcher block countertops, contact us at 800-565-0977, or check out our countertop product listings to start exploring your options today.